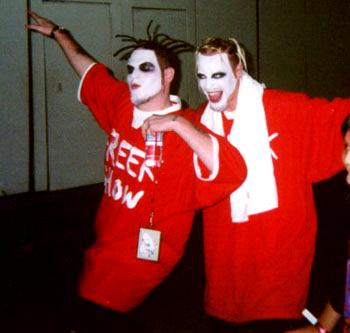 TWIZTID (Jamie Madrox & The Monoxide Child)
Along with ICP Twiztid is another band who has joined with ICP. They're also in the BackYard Wrestling: Don't Try This At Home. These two crazy guys do crazy stunts and do awesome at singing. There is somethings some fans didn't know. Before ICP and Twiztid joined together Twizitid had a different name and Madrox & Monoxide Child went by different names. Here is some history about this group. House of Krazees was an underground horrorcore group in Detroit, Michigan from 1993 to 1999. The group had 3 members in it, The R.O.C. (Brian Jones, aka Sol) Hektik (Paul Methric, aka The Monoxide Child) and Mr. Bones (James Spaniolo, aka Jamie Madrox). They originally released 6 albums during the years 1993 to 1997 before they broke up.

When Brian, Paul, and James were kids they grew up in the same South-East neighborhood, the three were best friends. They were inspired by rap music, heavy metal, and horror movies. Another one of their homies was none other than Esham. They were friends as far back as third grade. Brian, his cousin Evol, and J-Ho (Lavel) formed "Strength Productions". They released their first album entitled "Rollin' With Strength" which featured Paul, James, and J-Mo (Native Funk, aka Anybody Killa). In 1992 J-Ho left the group and teamed up with J-Mo to form the Krazy Klan, and Brian, Paul, and Jamie left and formed the House Of Krazees. Paul assumed the name "E.X.P." James assumed "Big J" and Brian assumed "The R.O.C.".

They started recording and made 9 songs for their album "Home Sweet Home". They made their own record label "Retro Horror Muzik", Scott Chapman produced their albums and they came across Asylum Records and they published the album for them. "Home Sweet Home" was released on October 1, 1993. They did not expect to sell many albums so they pressed 500 originals on tape only. Not many albums were sold but they sold enough to keep their spirits up and continue in the music industry. In October 31, 1993 the House Of Krazees got their first live show opening for Esham on the "KKKill The Fetus Tour". They started getting popular and the fans wanted to see a new album so in 1993 they decided they would go back to the studio and start recording for a new album. They recorded from January to May of 1994. In June of 1994 they finally released their second album entitled "Home Bound". They pressed 200 original copies on their label Retro Horror Muzik, they did not have a publisher this time so they only pressed 200 original copies only on tape.

Soon after the release E.X.P. changed his name to Hektik, and Big J became Mr. Bones. After they released "Home Bound" in 1994, House Of Krazees made a guest appearance on Evol's solo album entitled "Satanix 4 Life", they appeared on the song called "Satanic 4 Life". That year Mr. Bones released a 6 track EP with Looney Toon and Lock Down, a.k.a. The Sons Of Midnight. They named the album "The Demon Inside" and released the album on Skeleton Records. House Of Krazees were getting very popular as the days went on and the fans were screaming for another release. This time they released a full length LP called "Season Of The Pumpkin". They were able to do things their own way for this album because they fired Scott Chapman and R.O.C. took over the job of producing. They originally decided to have a double album with 3 singles on it with each member, but there was not enough songs so they only produced it on one album. They took the money from their first two releases and performing at concerts and in clubs to make alot of copies for this album, and also produced it on cassette tape and CD. They got very popular after they dropped this album, and it is considered one of The House Of Krazees best albums.

In 1994 they were looking for a manager and they ran across Walter Stepanenko of Latnem Intertainment. After the release of "Season Of The Pumpkin" Walter signed them to Latnem and they began recording for another album. "Outbreed" was released in the spring of 1995 and thanks to their new record label they were able to get this album more widely spread in the cities of Michigan. They released this album to retaliate against the haters, they produced it on cassette tape and on CD. That same year Mr. Bones released his solo album titled "Sacrifice", and it was released on Brain Dead Records. "Sacrifice" had 11 tracks, and was released on cassette tape only. They only pressed 500 original copies. R.O.C. and Hektik appear on this album in a song called "Insomnia".

In late 1995, they decided to go back to the studio and start working on a fifth album. They noticed Walter was financing their music but he was not paying them for the music they recorded. They decided to keep recording for him anyway and in early 1996 they released their fifth album called "Head Trauma". They pressed it on cassette tape only even though they had the money to produce it on CD, too. That year R.O.C. released his solo album called "X-Posed" it was also pressed on Latnem and only on cassette tape.

In 1997 James and Paul had plans on leaving the House Of Krazees and joining Insane Clown Posse's record label "Psychopathic Records". Violent J heard one of their songs on the radio and wanted them to join but they were in the middle of making a final album for their fans. They released their final album in February of 1997 called "Remix and Rewind". This album was a collectors edition of songs from their previous 5 releases. Before they left they recorded their final song called "Ghost" and it went on an album called "Mob Mentality Compilation". It featured many detroit artists and was pressed on tape only. While all of this was going on Brian formed another group called "The Howse" and it was signed to Latnem. They released an album called "Esohpromatem" and in a years time the group split up.

It was now 1998 and James assumed the name Jamie Madrox and Paul assumed the name Monoxide Child and became Twiztid. They released their first album called Mostasteless and it featured the House Of Krazees song "Murder, Murder, Murder" but Brians verse was cut out. He was credited in the booklet for the drum programming. Brian thought he was left out in the cold until he remembered his homie Krazy from 2 Krazy Devils.

Krazy changed his name to Skrapz and they began recording the final House Of Krazees album "The Night They Kame Home". They originall decided to name it "Season Of The Pumpkin 2" but they decidied on "The Night They Kame Home". In February of 1998 the album was released on the Latnem label on CD. Brian and Skrapz were having problems with Walter so they left the band and became Halfbreed and formed the record label "Virus Independent". In 1999 they released a sampler called "The Virus Shit Sampler", and that same year they released an EP called "Serial Killaz". Krazy Klan released their final album that year on Slang Town Records called "developMENTAL". This album features House Of Krazees (Sol and Skrapz) on a track called "2 Different Krazies". Psychopathic Records bought the rights to House Of Krazees and they are planning on selling all of the merchandise that is left.
Mr. Bones and Hektik changed their names to Jamie Madrox and Monoxide Child, and formed the group Twiztid. They released an album entitled "Mostasteless". Twiztid then hooked up with Psychopathic Records and Insane Clown Posse. Alongside with ICP, & Myzery, Twiztid made a guest appearance on the Psychopathic Sampler '98. Juggalos craved the song entitled "WHATTHEFUCK?!?!?!" and wanted more of the serial killaz. So Psychopathic released "Mostasteless" with a less controversial cover. One year later due to illegal sampling, Twiztid was forced to re-release Mostasteless in '99 under Psychopathic Records that included new tracks.

They toured with ICP on the Amazing Jeckel Brothers and Wicked Clowns From Outer Space tours, making juggalos aware of who they were. In late 1999, they released "Cryptic Collection Volume 1" which was an underground hit. Much like ICP's "Forgotten Freshness", CC held many rare/cut tracks by the dynamic duo that was hard to come across.

After being locked away in a studio for a few months, it was time...time for what? The 1st annual "Gathering of the Juggalos" that's what! Those serial killaz were hyped as ever to perform in front of over 7,000 juggalos. This was one of the biggest steps for Twiztid; they put on one of their best performances in front of the huge face painted crowd.

By the end of 99', Twiztid was ready to get out of ICP's shadow and become bigger then they were. With the small venues "Rock The Dead" tour, audiences grew immensely. With there 2nd release "Freek Show", the group had already established a name for themselves, with coverage in magazines such as A.P. and Murder Dog, and their Mockumentory video "Born Twiztid: Beyond The Freek Show". Twiztid's first video "We don't die" was aired on The Box Music Network.

Twiztid hit the road fall of 2000 in support of their successful album, and the juggalos rushed on in. Ticket sales for Freek Show tour were more successful than the "Rock The Dead" tour, proving once again that Twiztid can do it on their own. After six months of touring, Twiztid settled back for a while releasing another Cryptic Collection Volume this time with a sample of Dark Lotus. The super group of ICP, Twiztid, Blaze, & Anybody Killa, who replaced Marz.

Once again it was that time for the annual "Gathering of the Juggalos". This time in front of almost 10,000 Juggalos. Madrox & Monoxide put on many autograph sessions, chilled and smoked with Juggalos and put on an amazing performance, in appreciation of how much the Juggalos mean to them.

After the gathering was time for an all out psychopathic tour, Hatchet Rising Tour proved to be a fan favorite, including Twiztid! Twiztid rocked venues with their fellow homies from Dark Lotus/Psychopathic Records all over the country. Then the tour ended and those two serial killaz had vanished.

Many people didn't know what was happening with Twiztid, such samples of a side project entitled "Black Magic" were speculated to be released. The project fell through with one song "Wrong With Me" which was released on the bands website Twiztid.com. The song was an amazing hit with the juggalos, and they wanted more. But at the same time, wanted new Twiztid.

So Mono n' Madrox decided to scrape Black Magic and create a new CD. The era of "Mirror/Mirror" had arrived. Along with the arrival was the goodbye to Twiztid's bizarre hairstyles, they cut their warlocks off. Many juggalos couldn't wait for the album to drop so Twiztid went on tour supporting their upcoming release. Twiztid hit the road for the next several months, giving out the flavor and giving juggalos what they wanted, the wicked shit! Once Mirror/Mirror hit shelves, Juggalos craved it more. The sound of House of Krazees and Twiztid had mixed together to make an immediate fan favorite album.

Right now Twiztid has finished up Mirror/Mirror tour and is awaiting the 3rd annual Gathering of the Juggalos in Peoria Illinois in Mid July. What does the future hold in-store for Monoxide Child, & Jamie Madrox? Only time will tell. But one thing can be said, if you were to give an example for a group to go from no love at all fan wise to stardom, Twiztid would be it.
ŠTheICP&TwiztidZone